Rock Springs, REVI Installation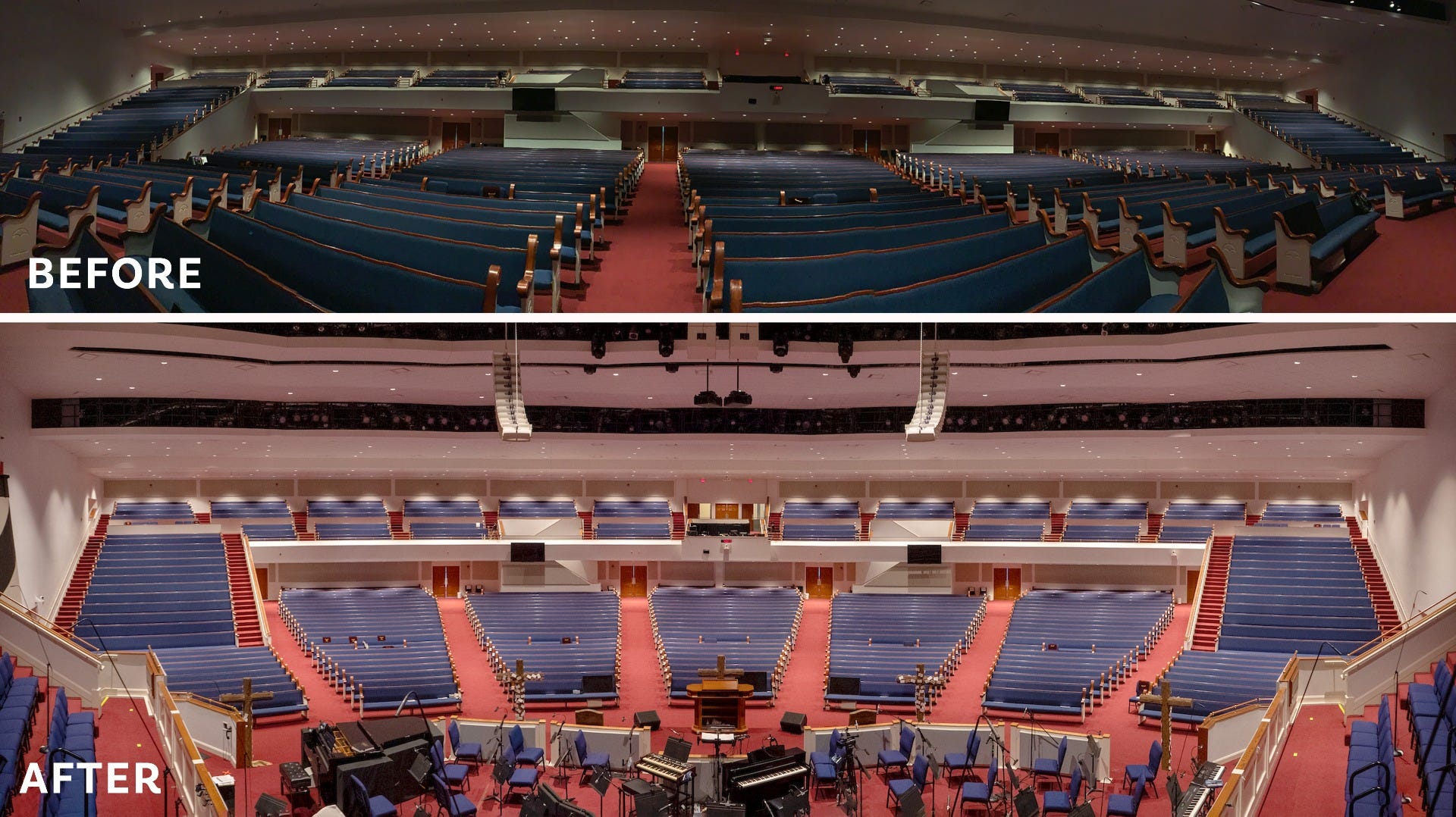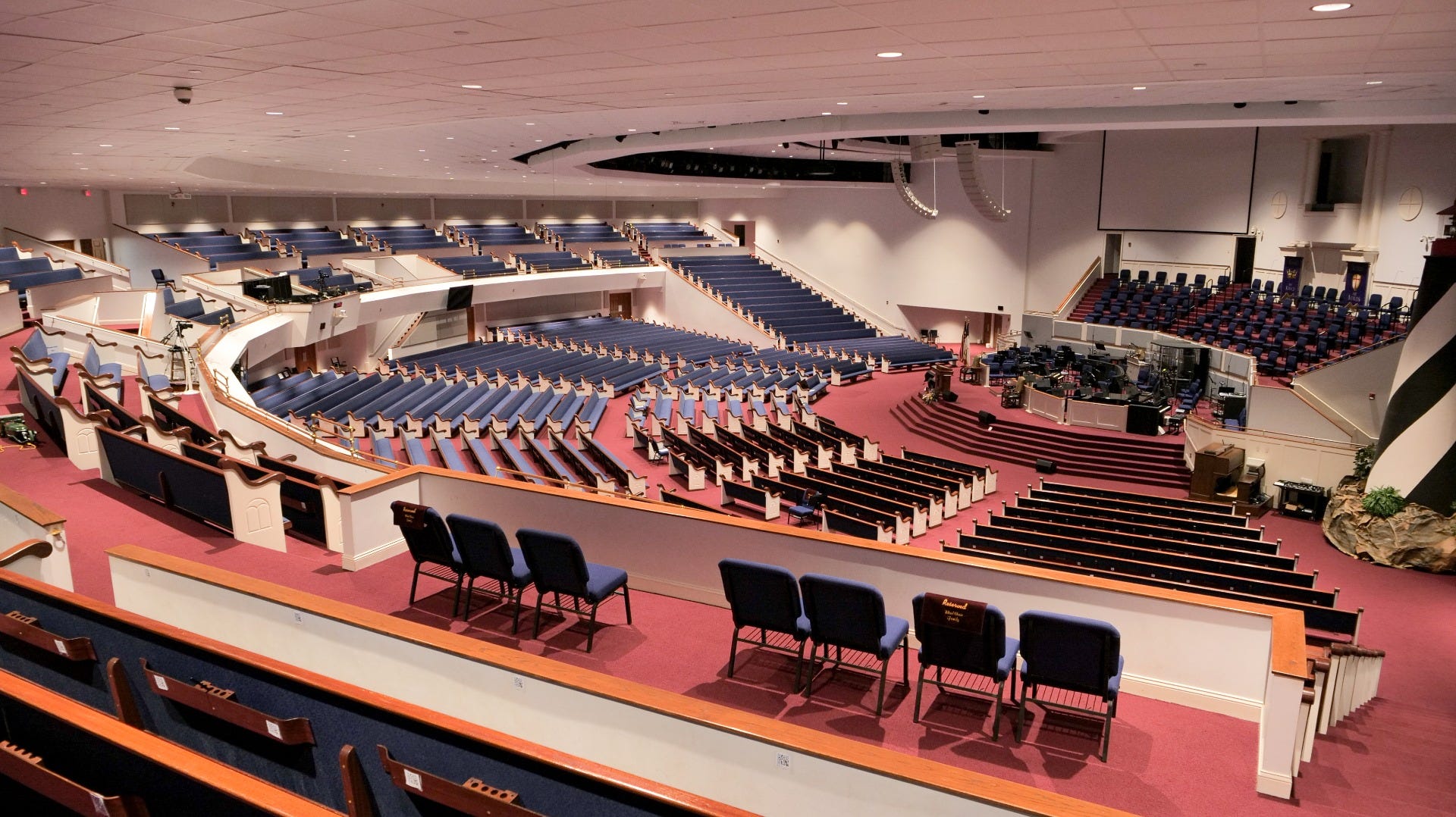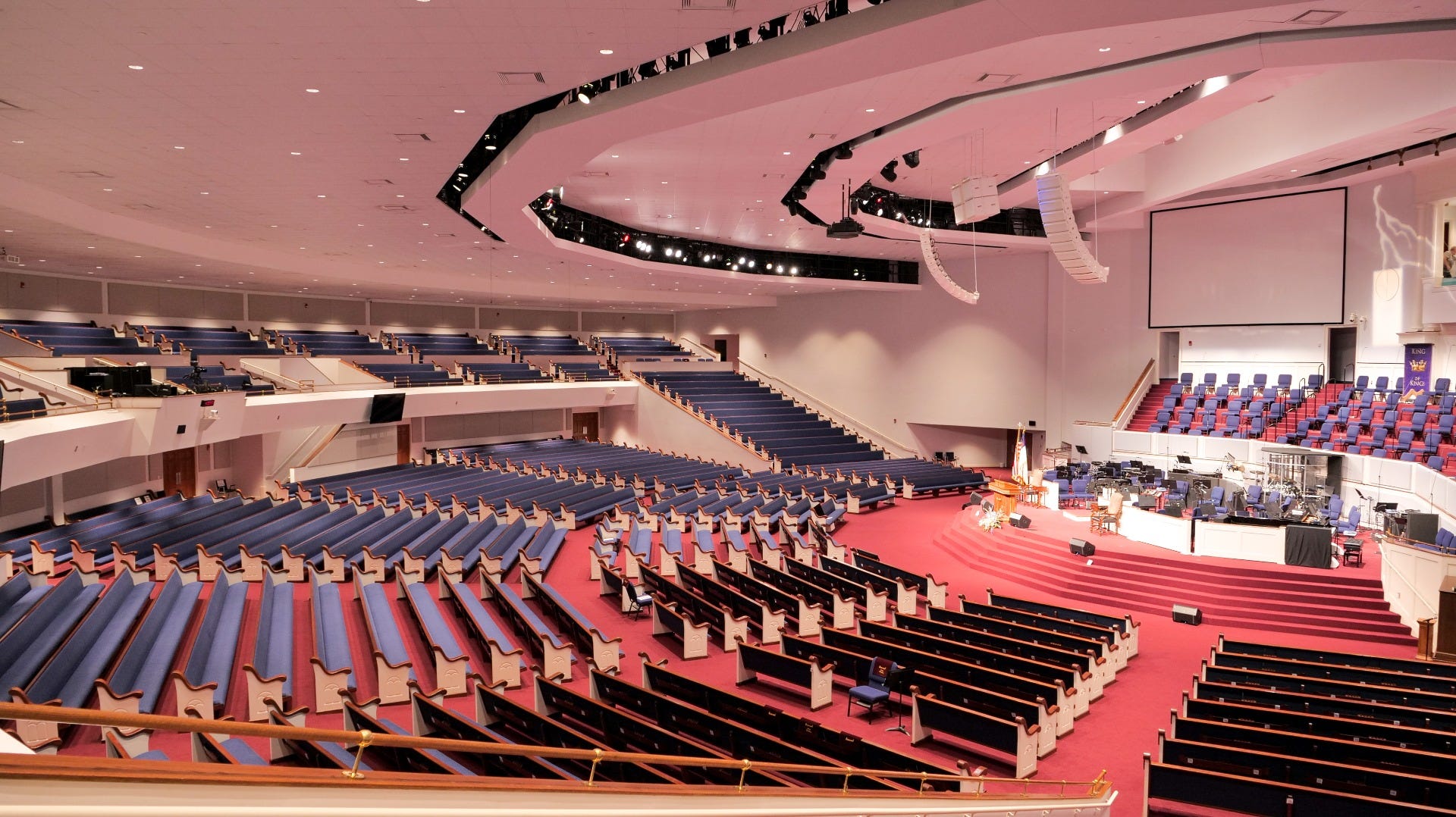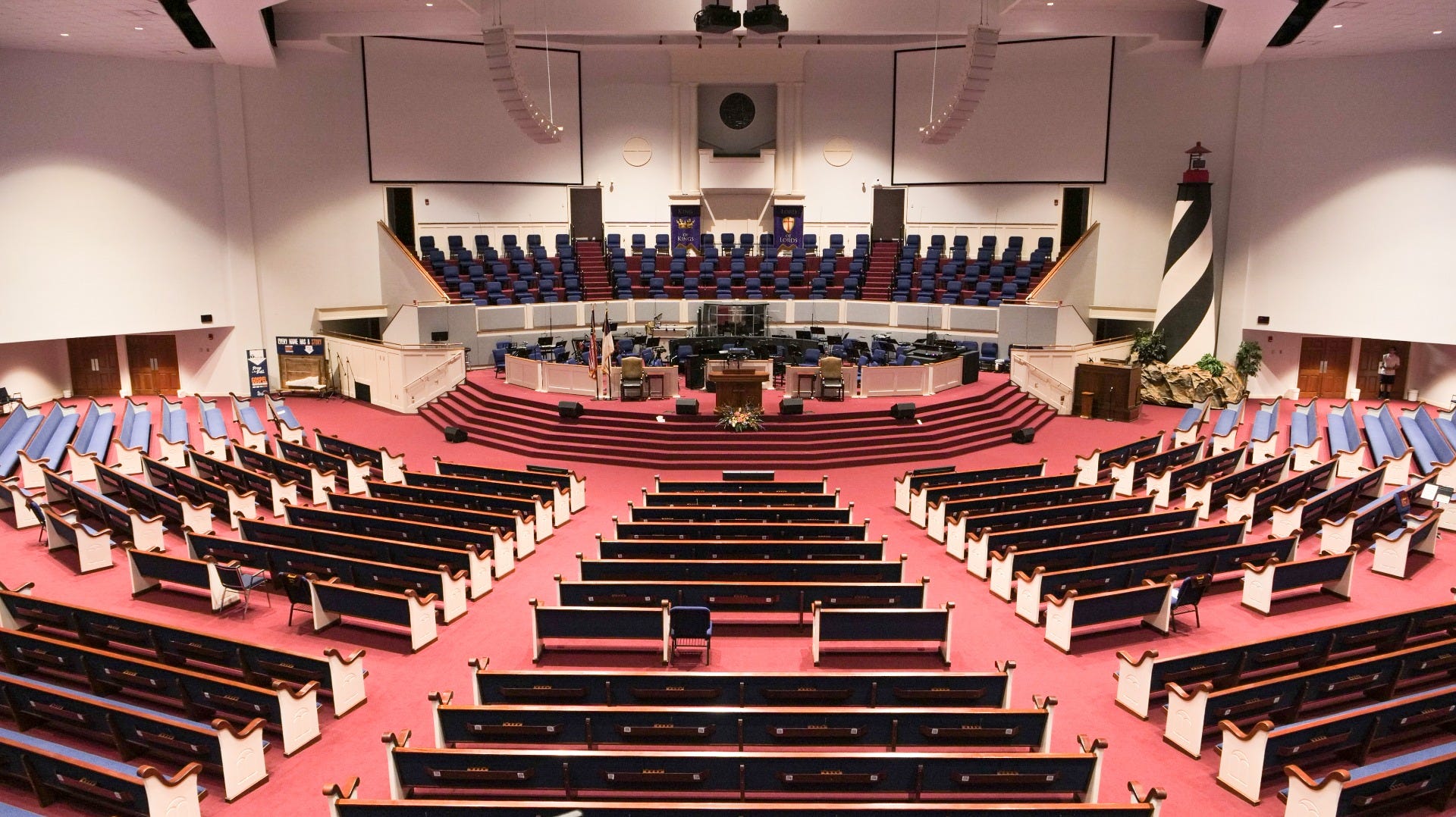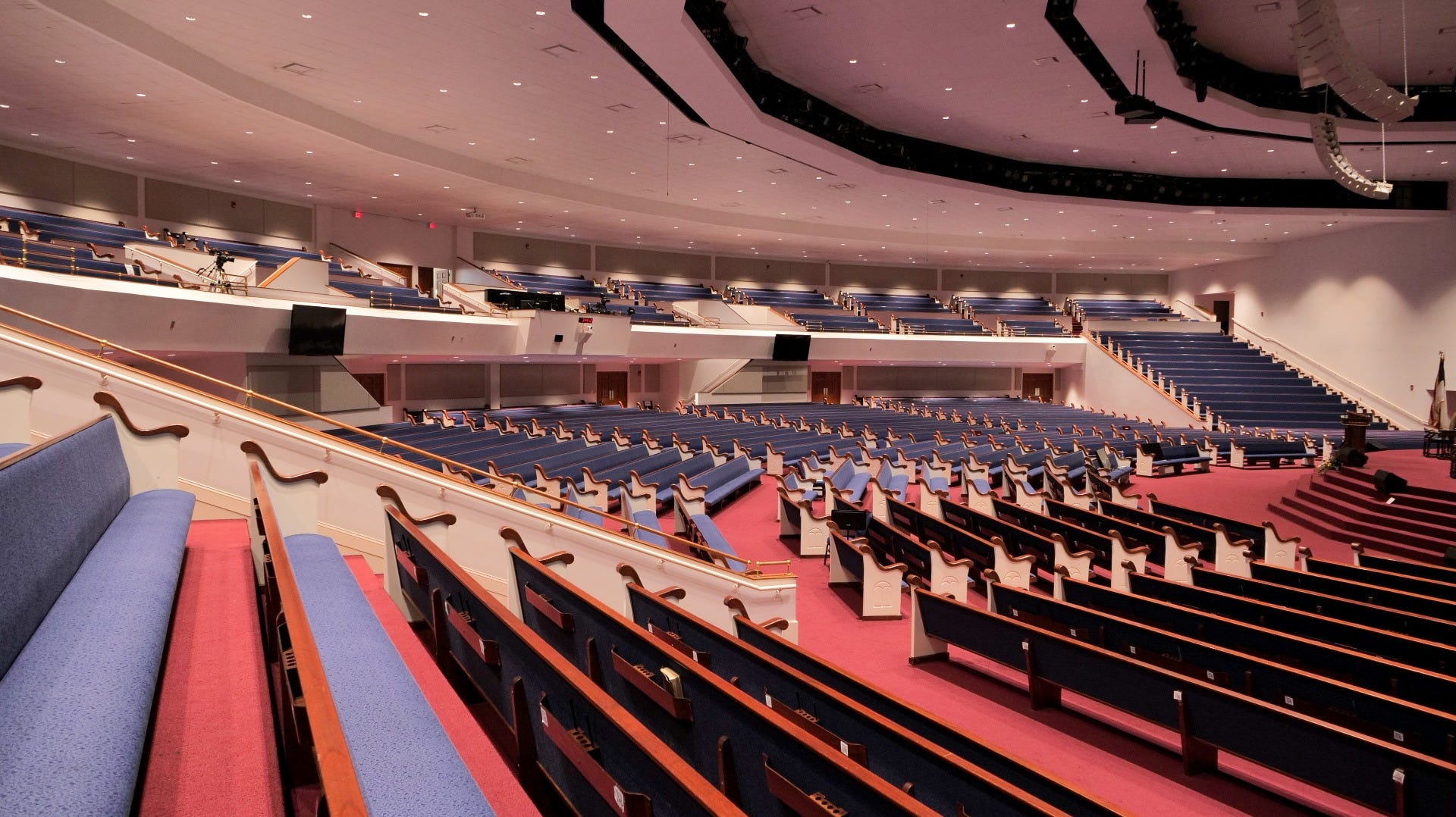 House of Worship: Rock Springs, REVI Installation
Low voltage downlighting is transforming house of worship lighting. It is simple to install, easy to control, cost-effective, and provides improved downlight coverage. The Rock Springs Baptist Church project by Strata is evidence of how low voltage lighting can revitalize and support the visual composition of a worship area, where feeling and ambiance are of the utmost importance.
The primary challenge of the project was to evenly brighten the entire auditorium, from the stage to the main seating and balcony areas. The 3,000+ total seat area had been measuring very uneven light, between 10 and 30 footcandles in the existing lighting scheme. It was important that the new lighting solution was easy to install, energy-efficient, and provided brighter and more consistent light coverage. The team at Strata achieved their desired lighting effect by utilizing the REVI (Remote-Voltage Illumination) downlight system from Environmental Lights.
A key to the success of this project was the use of our DMX-controlled REVI power supplies. The REVI Drives can be centrally located, easily configured, and controlled via DMX from the main control system. They distribute power to the low voltage downlights strategically located throughout the ceiling. By using REVI low voltage drivers, the team was able to reduce the necessary power load from 50 – 20 amp circuits, down to 8 – 20 amp circuits while achieving a higher volume of light coverage and having better control of it. The light coverage went from an uneven 10 and 30 footcandles of light to an even average of 50 footcandles of flat light across the entire space. The REVI installation provided such a significant increase in light across the auditorium that the cleaning team even joked, "They didn't like the new lighting because they will have to do a better job cleaning."
One of the added benefits of using low voltage fixtures was that they are easy to move. Low voltage uses 16 gauge wire as compared to line voltage fixtures which can be costly and time-consuming to relocate. The added flexibility enabled the team to experiment with different lighting arrangements in the balcony area until they found what worked best.


Need Help with a House of Worship or Auditorium Low Voltage Downlighting Project?
While Environmental Lights provides some of the most high-quality and innovative low voltage lighting products available, it is our level of support and expertise that truly sets us apart. We work with your team to determine the right products for the solution that meets your need. We also offer lighting design services to help you win more low voltage downlighting projects. Give us a call, and let's work together to integrate our innovative lighting products into your next project.
Phone: 888.880.1880
Request a quote »
Products Used:
Special Thanks and Photo Credits:
Learn more about our house of worship lighting:
Audio Visual Lighting Solutions