HyperFlex Tunable White 2835 LED Strip Light from Environmental Lights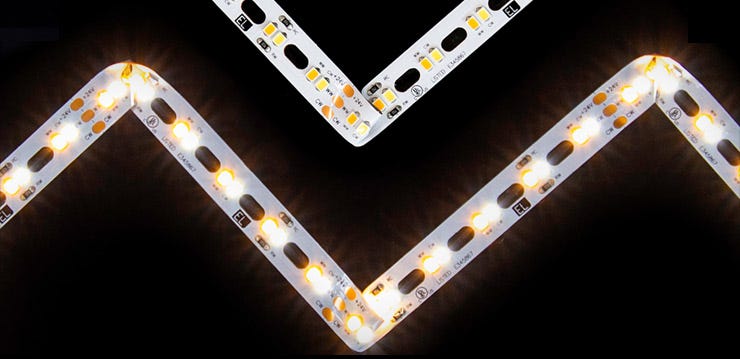 Versatile white adjustable strip light allows for tight bends and turns on flat surfaces.
January 19, 2020, San Diego, CA – Environmental Lights, a leader in LED lighting solutions, announces the launch of their new HyperFlex Tunable White 2835 Strip Light.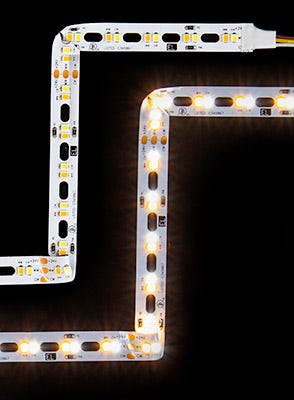 HyperFlex Tunable White 2835 LED Strip Light is the latest release in the award-winning HyperFlex family of LED strip lights from Environmental Lights. Unlike traditional LED strip light, Hyperflex can be folded over to alter the direction of the lighting run. The new tunable white version combines the versatile functionality of HyperFlex with the ability to mix 2400K and 6500K to create a wide range of white color temperatures.
The circuit board on HyperFlex Tunable White features a unique design that allows it to be folded for making turns of up to 90 degrees. This virtually eliminates the need to cut and reconnect the strip light when making bends or turns in a lighting run.
"Our HyperFlex family of products has been so well received that our customers have asked for more options beyond single color and RGB.", says Jordan Brooks, President of Environmental Lights. "The new Tunable White version enables users to tune their white output anywhere between 2400K warm white and 6500K daylight white. It is ideal for circadian lighting applications."
HyperFlex Tunable White 2835 Strip Light runs on 24 VDC, is 12mm wide, UL Listed and features 60 LEDs per meter. The color temperature of white can be customized by mixing 2400K with 6500K. HyperFlex Tunable White 2835 Strip Light is available exclusively at Environmental Lights and is sold by the 5-meter reel or is available in sample kits.
Product Features:
Bendable up to 90 degrees
Mix 2400K with 6500K CCT
5-meter run lengths
60 LEDs per meter
UL Listed
Shop Now: HyperFlex Tunable White LED Strip Light


About Environmental Lights
Environmental Lights was founded in 2006 in San Diego, California, and has been listed on the Inc. 5000 as one of the fastest-growing private companies in America for eight years in a row. We transform environments with LED lighting technology by engineering our customers' visions into innovative solutions. We partner with our customers from project inception, through planning, specification and installation of their LED lighting systems to ensure we create solutions that match their exact needs. Our work transforms environments in an array of industries including retail display, entertainment, trade show/exhibit, hospitality, casino gaming and audio-visual integration.
Learn more by speaking with a sales engineer at (888) 880-1880 or contacting us online.