LED Controllers & Dimmers
We feature Wifi RGB controllers, Wifi LED dimmers, DMX controllers, DMX decoders, Wifi white adjustable LED controllers and 120 Volt AC Dimming solutions.

Make your LEDs work the way you want with the perfect LED controller from EnvironmentalLights. We've done all the system design necessary to ensure that you have all of the proper controller components you need to make your project look fantastic. If you have any questions, please call 888-880-1880 or email us to get detailed product information on any of our dimming and controller products from highly-trained technical specialists.
FEATURED VIDEO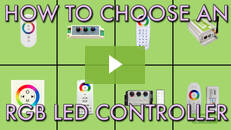 Purchasing Tips
Questions to consider when buying LED Controllers:
1. Will this project be DMX controlled?
2. Do you need a solid color or color-changing flexibility?
3. Do you need to control one zone or multiple?
4. Do you need to create custom effects?
Use our LED Controller Comparison Chart to help narrow your choices. Please Request a Quote if you need help designing your custom system.
Environmental Lights Lab